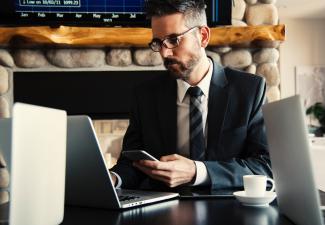 Understanding Exchange-Traded Funds
Thinking about where to invest your money can be overwhelming and confusing, especially for those who are unfamiliar with all options for investing. If you'd like to take advantage of the ease of stock trading with the diversification of mutual funds, exchange-traded funds (ETFs) can potentially give you the best of both worlds. Here are some key things to know about ETFs before investing. 
ETF Basics
Exchange-traded funds are baskets of securities—stocks, bonds, commodities or a combination of the three. The fund provider owns a group of assets and creates a fund to track the group's performance. They then sell shares of that fund to investors.
ETFs vs. Mutual Funds
One of the advantages of investing in an ETF is the diversification of funds without having to invest in each asset individually. In this respect, ETFs are similar to mutual funds, with a few key exceptions. 
First, ETFs are traded on an exchange throughout the day, much like stocks. Mutual funds, on the other hand, are traded just once per day after the markets close. The price of an ETF could change throughout the day, but a mutual fund's price will update daily. 
There may also be a lower cost and more tax-efficiency advantages to investing in an ETF versus a mutual fund. For the most part, ETFs are tracked passively, which means management and operational costs are generally low. And compared to mutual funds, there is less turnover for ETFs. Less buying and selling of assets results in fewer capital gains and greater tax-efficiency. Additionally, investors in ETFs are only taxed upon selling their investment, whereas mutual fund investors incur a tax burden over the course of their investment. 
Lastly, ETFs have greater transparency than mutual funds. Anyone can access the price activity for an ETF, and the fund's holdings are disclosed each day to the public.
Potential Downfalls of ETFs 
Although ETFs offer many benefits, there are some things to consider before investing. If you're comparing the price of an ETF to investing in individual stocks, you may find that prices are higher because of broker commissions and management expenses.
In general, the risks of investing in an ETF is lower because it's a diversified basket, but this could also mean that dividend yields are lower. More risk can come with more rewards, so if you're looking for a higher payoff, you may want to consider individual stocks instead of ETFs.
You should also be sure to research the type of ETF that you're investing in. Actively-managed ETFs, while uncommon, will typically have higher fees associated with them. If you're investing in a single industry-focused ETF, it could also hinder the amount of diversification that you're looking for, especially compared to investments in individual stocks and other assets. As with any investment, it's a good idea to talk to a financial professional before committing funds to make sure you are on the right track to meeting your financial goals.
ETFs trade like stocks, are subject to investment risk, fluctuate in market value, and may trade at prices above or below the ETF's net asset value (NAV). Upon redemption, the value of fund shares may be worth more or less than their original cost. ETFs carry additional risks such as not being diversified, possible trading halts, and index tracking errors
This content is developed from sources believed to be providing accurate information. The information provided is not written or intended as tax or legal advice and may not be relied on for purposes of avoiding any Federal tax penalties. Individuals are encouraged to seek advice from their own tax or legal counsel. Individuals involved in the estate planning process should work with an estate planning team, including their own personal legal or tax counsel. Neither the information presented nor any opinion expressed constitutes a representation by us of a specific investment or the purchase or sale of any securities. Asset allocation and diversification do not ensure a profit or protect against loss in declining markets. This material was developed and produced by Advisor Websites to provide information on a topic that may be of interest. Copyright 2021 Advisor Websites.