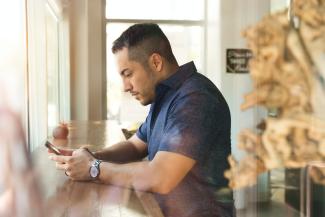 Passive Income Investments: How to Make Your Money Work for You
Income is the key to building wealth and is usually associated with working a full-time job. But what if you could potentially increase your income without working any extra hours? Passive income is defined as money that's earned with little to no daily effort. While there may be some extra work involved in setting up passive income investments, they can create a great opportunity for boosting your income long-term while still enjoying your free time outside of work. 
Here's what you need to know about passive income investments. 
Benefits of Passive Income Investments 
If you're working on an ambitious wealth-building goal, passive income seems like a no-brainer. But there are plenty of other reasons to consider passive income investments, even if you're not concerned about building wealth. Making your money work for you is a great option for those who are looking to retire early. Many people in the Financial Independence, Retire Early (FIRE) movement choose passive sources of income to maximize their retirement savings. Or, if you're getting close to retirement age and you're concerned about your savings, you may consider a passive income investment to help boost your income for your last few working years. 
Another benefit of passive income investing is that it can act as a backup plan in case of job loss. In the wake of the COVID-19 pandemic, many of us understand the importance of staying flexible during a crisis, and those with passive income especially have the benefit of continuing to earn income even during times of temporary unemployment. Similarly, if you're no longer able to work for any reason, passive income can help you get by while reducing the risk of draining your savings. 
Downsides to Passive Income Investments 
If you're considering a passive income investment, make sure you're informed of everything that's required to get your investment up and running. Passive income doesn't manifest from nothing—while it's a great way to boost your income long-term, it may require a significant investment of both time and money up-front to set yourself up for success. 
For example, owning a rental property is a form of passive income investing. But in order to get started with rental income, you'll need to factor in expenses like down payments, closing costs, renovations, and maintenance. If you're planning to fix up your rental property on your own, you'll need to plan to work extra hours until the property is in livable condition. 
Ideas for Passive Income Investments 
Deciding how you want to make your passive income depends on how much work you want to put into your investment at the outset. Rental income is a great option if you have some money stashed away for the initial investment and you have time to spend on looking for properties, fixing them up, and finding tenants. Here are some other ways that your money can work for you: 
Participating in affiliate marketing, earning money from referring friends and family to purchase from a specific company 
Renting out personal items like your car, a room in your house, or other useful tools and equipment
Using Real Estate Investment Trusts (REITs), companies that pool investors' capital to use for large real estate purchases 
Selling stock photos or licensing music 
Starting a blog or social media account and selling ad space 
No matter what your financial goals are, passive income investments have the potential to help you reach them quickly and efficiently. If you're considering a new investment strategy, talk to a financial professional to figure out what plan works best for you. 
 
---
*This content is developed from sources believed to be providing accurate information. The information provided is not written or intended as tax or legal advice and may not be relied on for purposes of avoiding any Federal tax penalties. Individuals are encouraged to seek advice from their own tax or legal counsel. Individuals involved in the estate planning process should work with an estate planning team, including their own personal legal or tax counsel. Neither the information presented nor any opinion expressed constitutes a representation by us of a specific investment or the purchase or sale of any securities. Asset allocation and diversification do not ensure a profit or protect against loss in declining markets. This material was developed and produced by Advisor Websites to provide information on a topic that may be of interest. Copyright 2021 Advisor Websites.