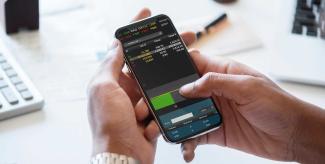 The Ins and Outs of Banking Online
In a few short years, it seems as though the banking industry has revolutionized. It is now easier (and more convenient than ever) to tend to your banking needs, all from the comforts of your pyjamas. Gone are the notions of banking hours, and the never ending lineups when you want to deposit your paycheck.
However, if you're anything like my parents, some of the newer online banking options seem a little too good to be safe. Rest assured that the overall consensus from both banks and computer wizards is that as long as you're smart, online banking is secure. PC Mag suggests that the simplest way to remain secure in online banking may be the most obvious one: Use a Strong Password. "It probably doesn't matter if someone else gains unauthorized access to your Club Penguin password. You may have to do some damage control and explain that you didn't actually post those nasty messages. But a malefactor who cracks or guesses your online banking password can drain your account dry. If you memorize just one strong password, make it your online banking password.1"
And if you're having trouble remembering the one - or many - secure passwords, there are excellent password manager tools to help simplify your life. A tool like LastPass can help keep your banking safe and secure. "In the real world you probably have more than one online financial account. Rather than strain your brain memorizing tough, hard-to-crack passwords for each of them, enlist the help of a password manager. The best ones not only store your passwords securely but also help you work through your collection of passwords and replace weak ones and duplicates. Furthermore, you can get excellent password management without paying a penny (though you do get more from the paid services).2"
So what exactly can you use online banking for? Here are only a few of the incredible ways online banking can help with your finances.
1. Manage your cash flow
Have up to the minute information on your expenses and earnings. Some banking apps even have features that illustrate through graphs your spending and earning patterns.
2. Simplify your government remittances
Easily receive your tax returns, and just as easily pay any owings to the government. Gone are the days of posting checks or waiting in line at the tax office, online banking has simplified that procedure.
3. Access all your accounts at any time, even outside office hours
I can't relay enough how important this is. Not only important but revolutionary in giving you the power to control your finances.
Resources
1. https://www.pcmag.com/article2/0,2817,2465491,00.asp
2. https://www.pcmag.com/article2/0,2817,2465491,00.asp
*This content is developed from sources believed to be providing accurate information. The information provided is not written or intended as tax or legal advice and may not be relied on for purposes of avoiding any Federal tax penalties. Individuals are encouraged to seek advice from their own tax or legal counsel. Individuals involved in the estate planning process should work with an estate planning team, including their own personal legal or tax counsel. Neither the information presented nor any opinion expressed constitutes a representation by us of a specific investment or the purchase or sale of any securities. Asset allocation and diversification do not ensure a profit or protect against loss in declining markets. This material was developed and produced by Advisor Websites to provide information on a topic that may be of interest. Copyright 2021 Advisor Websites.