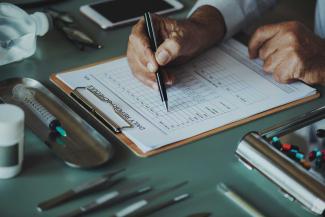 Getting Started in the Stock Market
Investing in the stock market can be extremely rewarding, but not without risk. While most investors understand that market volatility is a given in the stock market, for those trying to decide whether to invest in stocks, the volatility alone gives them pause. A lot of people are too risk averse to be comfortable investing in the stock market. They want a sure thing when it comes to investing their hard-earned cash. Unfortunately, a sure thing that also offers dividends is hard to find.
For those in their 20s and 30s, investing in the stock market is one of the best places to start, as their age alone will allow them to ride out the dips that occur.  But no matter what your age, the stock market can be a great way to shore up your retirement income.
If you're hesitant, but still interested in investing in the stock market, here are a few tips that may make investing a little easier and allow you to sleep a little better at night:
Start slow. The key to doing anything that you're nervous about doing is to start doing it slowly. The same goes for stocks. Once your comfort level increases, you can add a variety of stocks to your portfolio, but to get your feet wet, purchase a few shares of stock from well-established companies that have been around for the long haul.
Know that you're in it for the long haul. If you're in your 20s or 30s when you start to invest, you have plenty of time to weather the typical ups and downs of the stock market. But even if you're not, holding stocks for at least five years will typically allow you enough time to recover from recessions and low stock prices. You may not enjoy the rollercoaster ride, but at least you can relax in the knowledge that the dips are only temporary.
Be sure to diversify.  While stocks can play a major role in any portfolio, it will ease your worries considerably if you make sure that you diversify your portfolio, ideally with a mix of stocks, bonds, and other short-term investments or real estate holdings.
When you start to invest, you may want to consider investing in a CD as well. CD's or Certificates of Deposit are typically offered by financial institutions such as banks and investment firms. CD's offers a specific amount of interest on monies deposited, so while you won't get rich, the guaranteed interest rate can bring you some peace of mind. For further peace of mind, know that CD's or any banking or financial institution investments are insured by the FDIC for up to $250,000.
While there are a number of investing options available today for those with the means to invest, the stock market can provide a solid portfolio for the future. And while the stock market is certainly not for everyone, those that have the resources available can certainly benefit from investing early and not reacting to periodic dips in stock prices.
*This content is developed from sources believed to be providing accurate information. The information provided is not written or intended as tax or legal advice and may not be relied on for purposes of avoiding any Federal tax penalties. Individuals are encouraged to seek advice from their own tax or legal counsel. Individuals involved in the estate planning process should work with an estate planning team, including their own personal legal or tax counsel. Neither the information presented nor any opinion expressed constitutes a representation by us of a specific investment or the purchase or sale of any securities. Asset allocation and diversification do not ensure a profit or protect against loss in declining markets. This material was developed and produced by Advisor Websites to provide information on a topic that may be of interest. Copyright 2023 Advisor Websites.