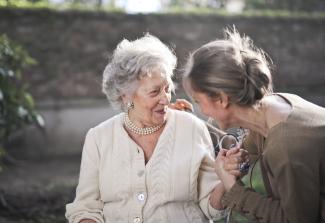 Do You Still Need Life Insurance When You Retire?
4 Reasons You May Consider Keeping It
When it comes to retaining life insurance in retirement, there are two schools of thought regarding its necessity. The primary purpose of life insurance is to protect your family against a loss of income should you or your spouse pass away. Life insurance benefits are especially important for individuals who still have dependents or have accrued a significant amount of debt.  So, if you don't fit this description and have plenty of income to live on in retirement, is it really necessary for you to retain a policy?
Of course, the answer will depend on your situation—your current debts and assets, your extant resources, and the overall framework of your financial plan.  However, you may want to consider if retaining, obtaining, or converting your policy would be beneficial for you. As always, consult your financial professional before you make any major money moves.
Does your policy offer cash value?
In some cases, the cash value of a policy can serve as a second emergency fund. Should you encounter difficulties covering certain retirement expenses down the road, many insurers allow you to surrender a whole life policy in exchange for an income contract with cash value. Or, if you find yourself in need of long-term care, you could convert the cash value of your whole life into a policy with an extended care rider to help cover those costs. Keep in mind, however, that withdrawing from or borrowing from your policy's cash value will likely reduce the death benefit.
Covering Memorial or Funeral Expenses
There is no doubt that covering funeral expenses can become quite daunting for a family member who has just lost a loved one and lives on a fixed income. The death benefit is a very popular way for individuals and families to prepare to cover memorial or funeral costs. In fact, some people carry them solely for this reason.
Paying off Your Mortgage or other Debts
If you carry a mortgage on your home or have any significant, outstanding debts, the death benefit could relieve your family of this fiscal burden in your absence. While some individuals carry separate policies for this reason, Mortgage Protection Insurance (MPI) policies, there are a few downfalls to these options that make the life insurance option a better bet. With MPIs, the death benefit decreases along with your mortgage balance, but your monthly premium stays the same. With a life insurance policy, however, your death benefit will not be affected unless you spend or borrow against it in your lifetime.
Do you have a taxable estate?
If you are a high-income earner or an individual who has amassed enough wealth that your estate exceeds the federal or state tax thresholds, a life insurance benefit could be a great way to help your family cover those costs before inheriting and distributing your estate. Essentially, it could keep your family from having to liquidate your other assets to cover the estate tax liability. 
Key Takeaways
Life insurance policies can be helpful tools both for families who lose a loved one or individuals who need access to some extra cash in retirement. Even individuals with plenty of income and a great financial track record can benefit from the risk management benefits these policies offer.
Unsure if holding a life insurance policy in retirement is right for you? Consult with your financial professional to learn more about their potential benefit in your financial plan. 
*This content is developed from sources believed to be providing accurate information. The information provided is not written or intended as tax or legal advice and may not be relied on for purposes of avoiding any Federal tax penalties. Individuals are encouraged to seek advice from their own tax or legal counsel. Individuals involved in the estate planning process should work with an estate planning team, including their own personal legal or tax counsel. Neither the information presented nor any opinion expressed constitutes a representation by us of a specific investment or the purchase or sale of any securities. Asset allocation and diversification do not ensure a profit or protect against loss in declining markets. This material was developed and produced by Advisor Websites to provide information on a topic that may be of interest. Copyright 2023 Advisor Websites.